Save the Dates!
2021-2022 Mock Trial Season
Summer Workshops
Coaches Roundtables
Clinic Information – December tbd – Clinic
Competition and Showcase Plans
Plan A: Combination of one hybrid option and in person regionals + in person state championship
Plan B: tbd based on courtroom large group gathering permissions
Tentative Dates (may move based on Courthouse availability):
February 12, 2022 – Virtual Regional
February 19, 2022 – Washtenaw and Wayne
February 26, 2022 – Oakland
March 5 – Ingham and Macomb
March 12 – Kent
March 19 – State Championship, Kalamazoo Michigan (reception March 18 at the Kalamazoo Radisson)
The 2020-2021 virtual dates:
Mock Trial Clinic – December 9, 2020
Regional 1 – February 20, 2021 (Washtenaw)
Regional 2 – February 27, 2021 (Oakland)
Regional 3 – March 6, 2021 (Inhgam)
Regional 4 – March 6, 2021 (Macomb)
Regional 5 – March 13, 2021 (Kent)
Regional 6 – March 13, 2021 (Wayne)
State Finals – March 20, 2021 (Virtual)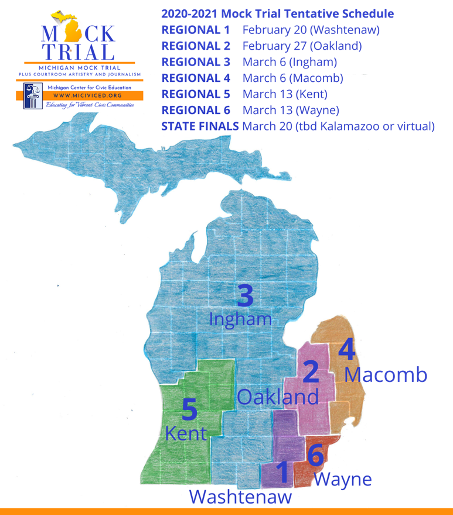 School & Team Registration
* (this is an early editing version – check back on November 1 for official first draft)
What is Mock Trial and How Do I Get Started?
Welcome! More than a law related simulation, Mock Trial transcends the courtroom to provide life long skills in speaking, listening, collaboration, argument, confidence, and civic self efficacy. Please start with this helpful FAQ about getting started in Michigan.
Registration opens November 1. Case materials will be released that same day.
MCCE and the State Bar of Michigan will be here to assist new and returning teams however we can to ensure successful participation! Plus, MCCE and the State Bar of Michigan will be here to assist however we can to ensure successful participation.
MCCE is expanding to offer additional law related education opportunities for more students than those in front of the bench. Are you an artist? Join us and illustrate the courtroom proceedings! Are you a rising journalist? Join us and use the courtroom to create a news report!
About Mock Trial
Mock Trials are exciting activities to teach content and appreciation of our adversarial judicial system. They are designed to reenact much of what might take place in a trial court. Students take on the roles of attorneys and witnesses and compete against each other in real courtrooms in front of real judges and lawyers. Students interpret legal documents, witness statements, and take on roles and simulate a trial in real life and real time. Participants adjust to the strategies employed by the opposing side. Mock trials draw upon historical events, trials of contemporary interest, school or classroom situations, or hypothetical and entertaining fact patterns to inspire students to think critically and creatively about the law.
In 2006, John T. Berry, Executive Director of the State Bar of Michigan, described the MCCE mock trial program as:
"[A] unique opportunity for young people to learn about the legal system, while at the same time practicing cooperative learning, critical thinking, and having positive interactions with adults. Participating in Mock Trial will certainly give a young person interested in a future legal career the chance to experience the challenges of the courtroom firsthand. However, for those following other paths, it is still a valuable and challenging exercise in reasoning, public speaking, and intellectual performance under pressure."
How does Mock Trial Help a Student Grow?
Mock Trial is a proven instructional strategy for elementary and secondary students. It helps students develop important knowledge about the law and legal system and it develops critical-thinking and speaking skills.
Good mock trials leave student participants with an appreciation of the difficulties that judges, lawyers, and juries face in attempting to present all relevant facts and legal arguments and how these pieces fit together to ensure the just resolution of the issues involved.
Margaret J. Krasnoff's May, 2005 article in the Michigan Bar Journal provides some additional insight:
"Mock trial teams study the materials, learn relevant legal principals, develop the case, practice witness examinations, and prepare opening statements and closing arguments. Just like real lawyers? Yes, indeed. The results are inspiring and sometimes, humbling. These high school students arrive in court as articulate and prepared advocates for their clients, knowledgeable concerning the law of their case, and practiced in courtroom etiquette. Each team is prepared to try both sides of the case, and each team argues both sides during the competition. Even a casual observer of the mock trial can't miss the fact that these students are engaged in and enjoying this experiential, educational endeavor. They are poised, confident, attentive, and able to think on their feet as they respond to objections or unanticipated twists in the testimony. It is equally educational for the legal professionals who volunteer to sit as presiding judges and scoring judges during the competition."
To read the entire article, Click Here (PDF).
How Do I Get My Students Involved?
There are so many ways to become involved in Mock Trial. First, you can use Mock Trial for learning in your classroom. Adapt the trial to historical events or simulate a modern court issue. Second, and this is where MCCE is right here to help, join us at the Michigan High School Mock Trial series. Field a team or more at the MCCE Michigan High School Mock Trial Tournament.
If you just want to run a mock trial in your classroom, there are some great resources online. The American Bar Association's Division for Public Education published a booklet with a lot of information and some sample trials for all grade levels:
Big Bad Wolf v. Curly Pig: A Civil Trial (Grades K–6);
Harry Potter and the Sorcerer's Stone (Grades 5–9);
The Case of Galileo Galilei (Secondary).
 Some additional sample cases available here.
Mock Trial Information Shortcut Menu:
Please use this shortcut menu for Google Doc access to many of the forms [to use Google Docs and adapt them to your needs, you can go to "File" enter, then "Make a Copy". You will be able to edit the documents this way. You also go to "download as" and choose a file of your preference]. Continue reading beyond this section for additional information on Mock Trial.
FAQ: About Mock Trial – Getting Started!
Journalist Rules and Guidelines
Non-Teacher Building Administrator Release
The Mock Trial National Championship is coming to Michigan in 2021. Please follow this link to see how you can be involved to elevate and celebrate Michigan's law-related education community!
Please find more information on the current competition season here.
And if you want to volunteer to help us at this year's competition to see what it's all about, please Sign Up to Volunteer Online.