Welcome to Michigan Mock Trial
Welcome!
This page will feature the information you need for successful participation in the 2022-2023 Mock Trial and Companion Program Series.
This page will feature:
Information on teacher and coaches monthly round robins

Case Materials (released early November 2022)

Regional workshops (beginning February 11, 2023)

Clinic Information

2023 Regional Series

2023 State Finals
Also, you use this page to register for regionals and pay for registration. This will also be where you complete your team roster. Thank you for valuing civic and law-related education!
A note on public health: 
The regional events will likely contain one virtual competition (as long as 6 teams sign up) and all the regionals will be in person. This will be reviewed monthly and align with public health and accessibility.  States, if in person, will likely be in Lansing at the Veteran's Courthouse.
2022-2023 Rules and Case Information
What is Mock Trial? What are the Benefits of Mock Trial?
Mock Trial is an amazing extra-curricular, co-curricular, and curricular program. Mock Trial advances knowledge and skills incorporating trial procedure, justice, rule of law, and more while encouraging teamwork, collaboration, and public speaking skills.
Watch students transform themselves into witnesses and attorneys and enact case facts in front of attorneys and judges in real life (or virtually real life) courtrooms. 
MCCE is also committed to expanding access to the law and justice. Our new companion programs encourage the storytelling necessary to tell the human experience inside the courtroom. Courtroom Artists illustrate the stories and Courtroom Journalists report on the information for the whole world to see, understand, and appreciate. Moreover, MCCE is dedicated to providing accessibility to current and future members of the Deaf and Hard of Hearing communities and their interpreters. ASL interpreters who are seeking 'hands up' time in courtrooms may use the high school mock trial series to approximate the real life of the courtroom while earning additional training hours for their certificate credentials. 
Middle school and elementary programs coming soon! MCCE is seeking sponsors who share this commitment to help expand to reach each and every school in Michigan. Message us if you want to help amplify the benefits of this program. 
Want to start a team? Wonderful – we are here to help. Please start with this helpful FAQ about getting started in Michigan.
To learn more about the benefits of Mock Trial – please click here.
Welcome! School Information
Information pending for the 2022-2023 school year.  Please expect the general following timeline:
Regional workshops pending
Coaches workshops – one Monday a month
Version 1 Case release on Tuesday, November 1, 2023 (Version 2 on 11/11/2022)
Virtual clinic
School Registration deadline – January 13, 2023 (number of teams and regional preference)
School team, artist, and journalist member form plus coach acknowledgement form due the week of  January 23, 2023. Please complete no later than Jan. 27th.  The form is here.
Regionals – February 18- March 11
Reception – March 17
State Finals – March 18
Volunteer Information and Sign Up
All materials used for the virtual events can be found here! Catch up on all the videos, resources, and tips that will help make your day smooth and successful.
2022 Case Materials, Rules, & Companion Program Info
Competition and Showcase Plans
Thank you in advance for contributing to the development of young legal minds. This section of the website serves to provide event information and registration for schools participating in the legal, artistry, and journalism regional events.
Thank you for your patience as the MCCE Board of Directors, the MCCE Programming Committee, the National High School Mock Trial Board of Directors, numerous courthouses, and additional volunteers worked together to develop a plan for the 2022-2023 season.  During the return to in person, we are working with our Courthouses to ensure a safe return. Many personnel have changed throughout the years as well so please expect a few updates and changes into the new season.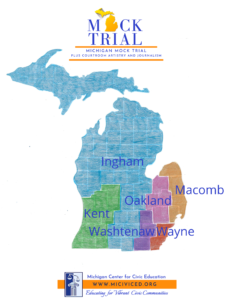 Updated Tentative Dates for Mock Trial and the Artistry and Reporting Companion Programs. All competitions are held on Saturdays. February 11the is dedicated to be virtual and the other events are in person. One weekend is dedicated   Deep appreciation to the Oakland County Bar Foundation and the Macomb County Bar Foundation for their enduring support!
February 11, 2023 –  virtual cancelled. (will try again in 2024!)
February 18, 2023 – Wayne and Washtenaw hosted in Wayne (location at Coleman A. Young Municipal Center)
February 25, 2023 – Oakland County
March 4, 2023 – Macomb County. Thank you to the Macomb County Bar Foundation. Event Full – Team Cap Reached.
March 11, 2023 – Kent County
Virtual Student Reception
Virtual Adult Evening Reception  hosted by the Litigation Section
March 18, 2023 – MCCE's Mock Trial State Championship and Showcase
May  18-20, 2023 – National High School Mock Trial Championship – Little Rock, Arkansas
MCCE will continue a series of virtual school orientations this year. Our goal is to welcome students into MCCE as well as address questions and processes for everyone. Coach and/or students can attend. We will review the likely schematics, go over how to read the program, Zoom naming conventions (if online), and address any and all questions you may have. This was deemed helpful by those who attended and helped ease some of the technology concerns and process questions for the day. All orientations must occur prior to the start of the first regional. Email MCCE at mock trial at miciviced.org for the Zoom link.
School Orientation Dates and Times:
Monday, Feb. 6 at 3:00 pm
Monday, Feb. 6 at 6:00 pm.
Wednesday, Feb. 8 at 3:00pm
Thursday, Feb. 9 at 3:00pm
Each session is anticipated to last 45 minutes.
Monthly Teacher & Coach Roundtable Conversations!
Please join in the monthly teacher and coaches roundtables. These will be structured to include three components to help mobilize the law related education communities through mock trial. At each session expect:
a) Updates on the Mock Trial season from MCCE
b) A mini professional learning session on an issue of import to the community and mock trial practice and
c) Time for you to ask questions of each other to advance mock trial in your schools.
Right now these are scheduled for 5:30-6:30 on Mondays once a month beginning September 26.
Please reserve:
Monday, September 26
Monday, October 24
Monday, November 14
Monday, December 12
Monday, January 23
Monday, February 6 (if needed)
Please complete this form to sign up for updates and receive the Zoom link for the roundtable above.
2022-2023 Additional Information
Our partners and sponsors make Mock Trial possible! Thank you: