Welcome to Michigan Mock Trial
Mock Trial Community
The 2022 season is off and running! Special thank you to each and every student, teacher, and volunteer for bringing mock trial to life. Below you will find a redesigned page offering information for schools and volunteers.
It is an amazing summer for professional learning.
Learn about the July 31-Aug 4 institute to learn mock trial and other essential components of teaching and coaching mock trial through curricular, co-curricular, and extracurricular programs.
Learn more here!
What is Mock Trial? What are the Benefits of Mock Trial?
Mock Trial is an amazing extra-curricular, co-curricular, and curricular program. Mock Trial advances knowledge and skills incorporating trial procedure, justice, rule of law, and more while encouraging teamwork, collaboration, and public speaking skills.
Watch students transform themselves into witnesses and attorneys and enact case facts in front of attorneys and judges in real life (or virtually real life) courtrooms. 
MCCE is also committed to expanding access to the law and justice. Our new companion programs encourage the storytelling necessary to tell the human experience inside the courtroom. Courtroom Artists illustrate the stories and Courtroom Journalists report on the information for the whole world to see, understand, and appreciate. Moreover, MCCE is dedicated to providing accessibility to current and future members of the Deaf and Hard of Hearing communities and their interpreters. ASL interpreters who are seeking 'hands up' time in courtrooms may use the high school mock trial series to approximate the real life of the courtroom while earning additional training hours for their certificate credentials. 
Middle school and elementary programs coming soon! MCCE is seeking sponsors who share this commitment to help expand to reach each and every school in Michigan. Message us if you want to help amplify the benefits of this program. 
Want to start a team? Wonderful – we are here to help. Please start with this helpful FAQ about getting started in Michigan.
MCCE will also sponsor a summer institute July31-August 4 to help coaches and teachers ramp up their knowledge and skills to begin a program in the fall of 2022!
To learn more about the benefits of Mock Trial – please click here.
Volunteer Information and Sign Up
All materials used for the virtual events can be found here! Catch up on all the videos, resources, and tips that will help make your day smooth and successful.
Students, come celebrate your year with the Young Lawyers Section!
March 18, 4:30-5:30 PM
Register here! or https://bit.ly/MTSTUREC2022
Adults – come celebrate the law related education communities with coaches, volunteers, teachers, and more. Join the Litigation Section in honoring your work and spending time together.
March 18, 2022 5:30-6:30 PM
Register here – or https://bit.ly/MTREC2022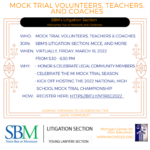 2022 Case Materials, Rules, and Companion Program Information
Competition and Showcase Plans
Thank you in advance for contributing to the development of young legal minds. This section of the website serves to provide event information and registration for schools participating in the legal, artistry, and journalism regional events.
Thank you for your patience as the MCCE Board of Directors, the MCCE Programming Committee, the National High School Mock Trial Board of Directors, numerous courthouses, and additional volunteers worked together to develop a plan for the 2022 season.  Please know MCCE Board of Directors has carefully weighed all concerns and variables surrounding public health and have prioritizing the health of the students, volunteers, and staff first.
At this time, all MCCE regional events, the state finals (including the companion programs), and now the National Championship will be virtual. This was the best decision with the information available to best protect the health of the students, teachers, coaches, volunteers, and staff while working to maintain competitive equity. We took a nod from the legal community and local public health departments to adapt to the virtual world and provide that experience for 2022.   A virtual student reception and an adult reception to celebrate teachers, volunteers, sponsors, and coaches will also be available.  Thank you for prioritizing the health of our civic community and your flexibility as we navigate this together.
The registration registration deadline was January 21, 2022 for legal teams.  Roster information, courtroom journalism, and courtroom artistry participation were due February 4, 2022.
Updated Tentative Dates for Mock Trial and the Artistry and Reporting Companion Programs. All competition events are virtual and scheduled for Saturdays.
February 19, 2022 – Washtenaw and Wayne
February 26, 2022 – Oakland and Ingham. Thank you to the Oakland County Bar Foundation for their support.
March 5 – Macomb – Thank You Macomb County Bar Foundation for their support.
March 12 – Kent
March 18 – 4-5 PM Virtual Student Reception hosted by the Young Lawyers Section – https://bit.ly/MTSTUREC2022
March 18 – 5:30-6:30 PM Virtual Adult Evening Reception  hosted by the Litigation Section – https://bit.ly/MTREC2022
March 19 – MCCE's Mock Trial State Championship and Showcase.
May 4-7, 2022 – National High School Mock Trial Championship (Student competition online, Judges Reception in Kalamazoo public health permitting. Please see more information on the Mock Trial Page on this site.)
Coach and/or students can attend. We will review the likely schematics, go over how to read the program, Zoom naming conventions, and address any and all questions you may have. This was deemed helpful by those who attended and helped ease some of the technology concerns and process questions for the day. Email MCCE at mock trial at miciviced.org for the Zoom link. Dates:
Wednesday, Feb. 9 at 3:00pm
Thursday, Feb. 10 at 3:00pm
Each session is anticipated to last 45 minutes.
Coaches Roundtable. 
The coaches roundtable will serve two primary purposes. First, MCCE can provide information on the events and address questions. If there were case updates (which there are none as of today), we would also confirm notice. Secondary, it is important for us to provide opportunities to collaborate with each other. We will open the floor to questions, hopes, concerns, what has worked, what hasn't worked for you and the like. This is a chance to talk with one another as colleagues and develop more community and aid in more thinking around successful coaching and sustainability. Email MCCE mocktrial @ miciviced . org for the Zoom Link.

Dates:

Tuesday, February 1, 2022.  6-7 PM

Tuesday, February 8, 2022 – 6-7 PM