Civic Education Summit 2022!
This summer, MCCE will host a civic education summit bringing together three signature programs. These co-located conferences will provide an opportunity to enhanced collaboration, community, and connectedness in civic education communities.
Sign up ASAP to reserve your spot in these year-long, supported programs which help each teacher realize the best in instructional methods, current and relevant content, and classroom protocols to honor diverse viewpoints. If you have ever felt a disconnect between subject, student, and instruction, please join us. These programs will help transform your own identity to one of educator – who provides the essential tools for student collaboration, curiosity, joy, and rigor for student success.
Significant focus will be paid on equipping teachers to realize a student centered classroom which transforms students into rising scholars with a voice and perspective all their own.
The in person institute is scheduled for July 31-August 4. Some meetings may occur in advance. Year long support is integrated into the programs.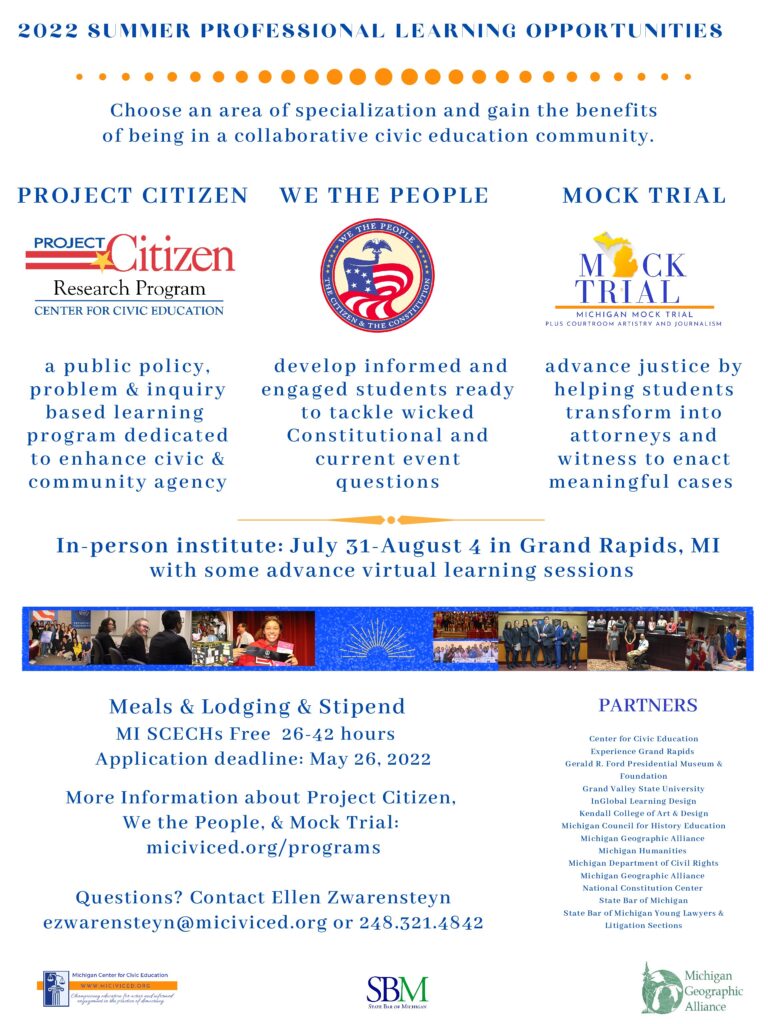 Learn More About the Programs
Project Citizen, Project Community emphasis students working to understand their communities, identify needs, and create meaningful public policy solutions. Truly interdisciplinary, this program aids in student discovery of their environments. Most importantly, it then answers the question of "what next?" transforming students from passive recipients of information into active members of society who know they can make their communities healthier, more vibrant, and engaging.
This program will nourish a teacher's desire for deeper Constitutional and current civic knowledge. Together with the National Constitution Center, the Gerald R. Ford Presidential Museum, and other partners, this program will guide teachers through simulated Congressional hearings and so much more. Dialogue with scholars will deepen, challenge, and strengthen Constitutional thinking.  Exploreand practice student centered Constitutional inquiry, curiosity, and rising scholarship.
Mock Trial not only teaches fundamentals of the US legal system, it helps guide students through collaboration, public speaking, strategic thinking, teamwork, and more. This instructional track will help teachers seeking to start or deepen their curricular, co-curricular, or extra-curricular practice. While focus will be on showcasing mock trial, methods taught could enhance any classroom practice steeped in judicial understanding, trial advocacy, and rule of law.