The 2022 Kick-Off Reception on October 15, 2021 Invite
Information on the 2022 National High School Championship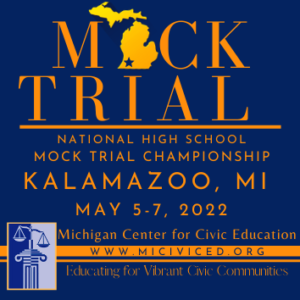 The National Mock Trial Championship is coming to Michigan in 2022!
Please save the date! Join us May 5-7, 2022 for the (rescheduled) National High School Mock Trial Championship! We hope this the first of many opportunities to highlight the finest in Michigan's civic and law-related education communities.
Volunteers across the state will convene to ensure a successful event.
Over 1,200 people are expected to attend the Championship – nearly all the states, territories, and even a few international teams are expected to attend.
Let's Build Community Together
MCCE believes in the talent and volunteerism in Michigan. We will work together to provide an amazing event for all the participants and utilize this event as a chance to build up Michigan's law-related education communities.
Please use the above volunteer form only if you are a legal professional with interest in judging the trials. Preference will be given to those with experience at local, state, and/or national high school mock trial events.
Please use the above volunteer form if you are interested in volunteering for the overall event. This is inclusive of all non judging roles which may include: registration and pick up, courtroom liaison, concierge desk, hospitality (team and volunteer meals), events, set up, general assistance and more.
Gather More Information Here!
Thank you!
Please help us thank our early sponsors for making this an amazing journey. As they say, it takes a village. Thank you for being in ours:
Kalamazoo County Bar Association
State Bar of Michigan's Litigation Section
Oakland County Bar Foundation
State Bar of Michigan's Young Lawyers Section
Warner Norcross + Judd
Official Volunteer Page and Registration for the 2021 tournament will be live in the spring of 2022.