JOIN THE MiCIVICS COALITION

Together we can work to build a Michigan where every person has the opportunities, knowledge, and skills to participate meaningfully in the civic life of their community.
Join us by adding your voice, experience, and perspective to the MiCivics Coalition work. Better yet, become a partner to address civic needs and opportunities for each and every student, teacher, and community members across our great state.
ABOUT

Over a year ago, a small group of concerned educators and community members began to meet to discuss what might we be able to do to learn about, elevate, and advance the state of civic education and the health of Michigan's civic life. From here, we developed focus groups to ascertain as to the hopes and needs of administrators, educators, and community members. This was the start of the MiCivics Coalition.
The MiCivics Coalition is growing because so many have decided to join in the work, recognizing the need to reshape our own efforts behind school and community based education. Please consider joining this beautiful adventure, full of learning how and relearning the why to advance meaningful, engaging, rigorous, and authentic civic education.
On behalf of the MiCivics Coalition, thank you for investing your time and energy into a more equipped, informed, expressive, and beautiful today and tomorrow.
PURPOSES
The evolving vision of the MiCivics Coalition is to create a Michigan where:
every single student and educator can experience immersive and meaningful programs like

We the People, Mock Trial, and Project Citizen

– K-12,

every person has the opportunities, knowledge, and skills to participate meaningfully in the civic life of their community,

all people are equipped to participate fully in a democratic society,

to advance equity, education, agency, voice, empowerment for all Michiganders, and

______ add your why and vision here!
This is your invitation to join the work! This is the only way to advance what we are know is so critical in our society. Please share and bring others to the table as well. MCCE thanks each and every coalition member and partner organization. Like the "Tree of 40 Fruits", each of us is bound to each other through our civic connections and roots, each with our own expression and perspectives of how to best engage our world.
APPRECIATION
Moreover, MCCE would like to thank the intellectual and financial support of the Michigan Humanities and the CivXNow Coalition. This project is funded in part by the Michigan Humanities, an affiliate of the National Endowment for the Humanities along with the CivXNow Coalition, a project of iCivics.
MiCivics Preliminary Findings
See the preliminary results of the 2022 listening tours.
MiCivics Preliminary Recommendations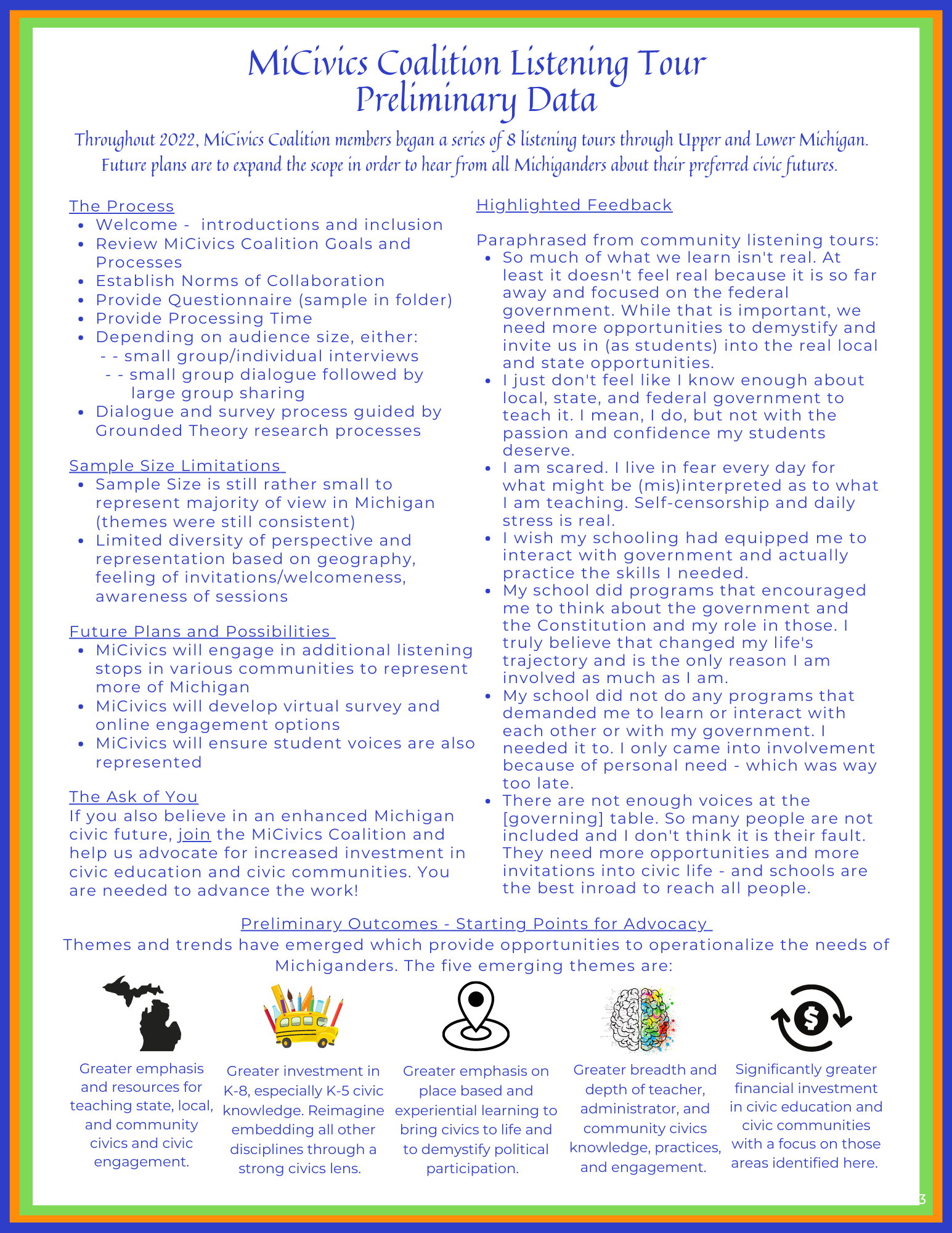 Upcoming Listening Tour Locations
Previous Listening Tour Locations
Peter White Public Library
Friday, August 12 3:30-4:30 pm
2nd Floor, Shiras Room
217 N Front St.
Copper Country ISD
4:25-5:45 pm
809 Hecia St.
Hancock, MI 49930
St. Ignace Public Library
Friday, September 30
1:30 – 2:30 pm
110 West Spruce Street
St. Ignace, MI 49781
Downtown Branch YMCA of
Greater Flint
Thursday, October 13th – 5:30 – 6:30
411 E 3rd St.
Flint, MI 48503
Ann Arbor Public Library ​- ​
Pittsfield Branch
Friday, October 14th – 5:30 – 6:30 PM
2359 Oak Valley Dr
Ann Arbor, MI 48103
Detroit Listening Tour Stop
Detroit Center –
University of Michigan
3663 Woodward Ave., Suite 150
Detroit, MI 48201
Grand Rapids Listening Tour Stop
Grand Rapids Library
Main Branch
111 Library St. NE
Grand Rapids, MI 49503
Lansing Listening Tour Stop