About Community Conversations
The  purpose of Community Conversations serves to bridge the K-12 education communities and the greater civic, governmental, and law related education communities. For the inaugural season, each month will be rooted in its related awareness month. From here, moderators and panelists will share their compelling stories, research, and more.   It is the personal + professional stories that provide pathways for all of us to see ourselves as part of these communities and/or informed members of our community in order to achieve greater civic and community possibilities. 
While each month provides a theme, we know these issues transcend any given month. Rather, they serve as a call for greater inclusion, greater appreciation, and acknowledgment of the contributions and possibilities for an inclusive democracy.
Community Conversations is open to all and will provide space to open dialogue, share stories, and explore pathways for greater understanding of civic possibilities. Along the way, stories of resilience, joy, resistance, and persistence will help formulate our own civic and legal futures.
Thank you to the generosity of Warner Norcross + Judd.  This legal firm has helped to underwrite this inaugural speaker series.
Thank you for supporting greater understanding through dialogue, diversity, and inclusion.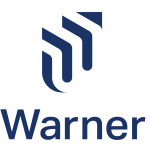 2022 Community Conversations Series
2022 Season – All Sessions are from 7:00-8:00 PM
July 12 – Reimagining Justice & Public Safety: CoCreating Inclusive and Equitable Communities
August 23 – Civic Education Possibilities: Investing in Civic & Law Education Programming
September 13 – Embracing Challenging Conversations: Listening for Shared Meaning (postponed due to internet outage – check back for rescheduled date)
September 28 – Voting Matters: Michigan Voters Challenges & Opportunities
October 12 – Building Bridges Not Walls: Overcoming Partisanship for Enhanced Public Policy
November 9 – Honoring Indigenous Knowledge: Exploring Authentic Learning Resources
How do I join? Please use the link to register. All Zoom information will be forwarded upon registration. Thank you for joining us!
Thank you for joining us for the inaugural season of Community Conversations. 
Recap of the season and videos for you use can be found below
Missed a Session? No problem - watch the series here!
October's lively Community Conversation included dialogue on issues within and beyond LGBTQIA+ communities.
Please listen and watch to the conversation with civic education dedicated panelists:
Christopher R. Riano, President of the Center for Civic Education
Jon Hoadley, Former MI State Representative
Eric-John Szczepaniak, President of the Michigan Center for Civic Education
Moderator: Ellen Zwarensteyn, Michigan Center for Civic Education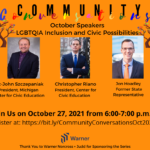 September's Community Conversation included dialogue on issues within and beyond Latinx communities. Dr. Goett presented information including cultural and historical analysis including impact of government policy at home and their international context. 
We were honored to have Dr. Jennifer Goett of James Madison College at Michigan State University to share their knowledge, stories, and experiences with you.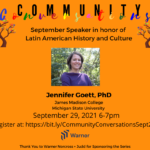 Looking for meaningful ways to engage students and communities in civic education? View this video with featured panelists who explore MCCE civic education programming.  This conversation provides an introduction to programs which engage K-12 student in authentic public literacies. Overviews and inroads for participation for We the People, Project Citizen/Project Community, Michigan Mock Trial, National Mock Trial, and Professional Learning are provided. 
Thank you to the panelists who joined us to share their knowledge, stories, and experiences with you. Colin Sullivan, Hillary Baker, Andrew Face, Peter Shaheen, and Ellen Zwarensteyn were panelists and Eric-John Szczepaniak, MCCE Board chair served as the evening's moderator. 
MCCE would like to extend a special thank you to Warner Norcross + Judd for their support of this important series.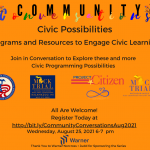 July's Community Conversation: Independence Day and Freedom – Limits and Possibilities
We are honored to have the opportunity to learn from Assistant Professor Marty Jordan.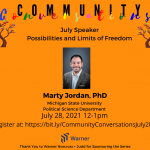 June 2021
Theme: Ability, accessibility, inclusion, civic possibilities and so much more!
Panelists: 
Sarah Cox, Eastern Michigan University – focus on Autism in the classroom 
Annie Urasky, Director of the Division on Deaf, DeafBlind, and Hard of Hearing at the Michigan Department of Civil Rights (MDCR)
Also joined by: 
Alayna Lail – Rights Representative of the Division on Deaf, DeafBlind, and Hard of Hearing at the MDCR- focusing on the youth initiative 
Anthony Lewis – Director of Community Outreach at the MDCR – focusing on youth engagement in civil rights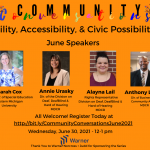 May 2021
Asian American Histories and Civic Possibilities
Panelist:
Dr. Meaghan Kozar,  Michigan State University
Moderator: GlenEllen Lehmberg, Intern at the Michigan Center for Civic Education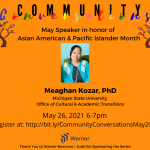 April 28, 2021
Arab American Histories and Awareness
Panelists:
Matthew Stiffler, Researcher at the Arab American National Museum
Moderator: Petra Alsoofy, Outreach and Partnerships Manager at the Institute of Social Policy and Understanding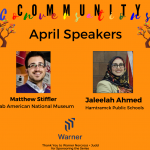 ---
March 2021
Panelists:
Brandy Johnson – Policy Advisor, Education & Workforce at Executive Office of Governor Gretchen Whitmer
Dr. Sejuti Das Gupta
Moderator:
Ernscie Augustin of Chalgian and Tripp
---
---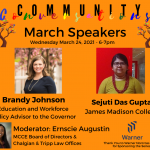 February 2021
Panelists:
Dr. Amber Benton of Michigan State University
James Liggins of Warner Norcross + Judd
Moderator:
Ernscie Augustin of Chalgian and Tripp
---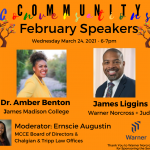 Support MCCE and the series! Link here to take action now!