Registration is NOW OPEN for 2018-2019 Mock Trial
wphungerford
<![CDATA[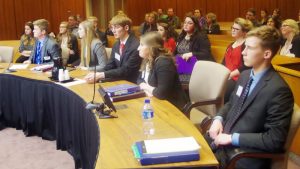 The Michigan Center for Civic Education announces that registration is now open for high schools to register in this year's tournament. This year's competition is based on the following case:
Jordan Simon was a seemingly healthy 17-year old high school senior.  He attended a well-known private high school, Spartan Academy, where he established himself as a star sprinter and was competing for an NCAA Division I University track scholarship at the time of his unexpected deadly heart attack.  
The autopsy revealed the steroid Erythropoietin (EPO) in his bloodstream. EPO is used medically to treat certain forms of anemia. EPO has also been known to improve athletic performance because it increases the oxygen-carrying capacity of blood. Conversely, EPO also increases the blood viscosity, which can cause the blood to clot and clog capillaries, resulting in a heart attack.
At hand is the question of negligence. Jordan's surviving parent, Kelly Simon, filed a lawsuit against Spartan Academy and the track coach claiming Spartan Academy and Terry Swift they encouraged Jordan to use steroids, should have known he was using steroids and taken steps to stop his steroid use. The coach and Spartan Academy deny Kelly Simon's claims and contend that Jordan Simon assumed the risk of using steroids; and advance that Kelly Simon was comparatively negligent in not discovering Jordan was using steroids, and not taking steps to stop his steroid use.
Explore the case and the law with your school's Mock Trial teams. Assess for yourself who has liability for Jordan's death.
Michigan's 2018-2019 Mock Trial was initially used by the Arkansas Bar Foundation and adapted by the South Carolina Bar High School Tournament. Thank you for your permission to adapt and bring the case to Michigan's students.  
The MHSMTT has been organized and conducted by the Michigan Center for Civic Education since 1982. Teams of 6-10 students present arguments before panels of three judges per courtroom. One judge presides over the trial, while the others serve as the jury. Regional competitions will take place on the following dates:
February 23, 2019
– Washtenaw County Regional, Ann Arbor
March 2, 2019
– Macomb County Regional, Mt. Clemens**
March 9, 2019
– Oakland County Regional. Pontiac
March 16, 2019
– Kent County Regional, Grand Rapids The top 10 teams will compete in the State Finals on March 23, 2019, in Lansing. The state champions will be eligible to compete in the National Mock Trial Championship May 16-18, 2019 in Augusta, GA Interested schools can register for the Tournament online on our
MHSMTT Registration
page. More information about the Michigan High School Mock Trial Tournament is available
here
.
The deadline for registration is 3 p.m. January 11, 2019
]]>